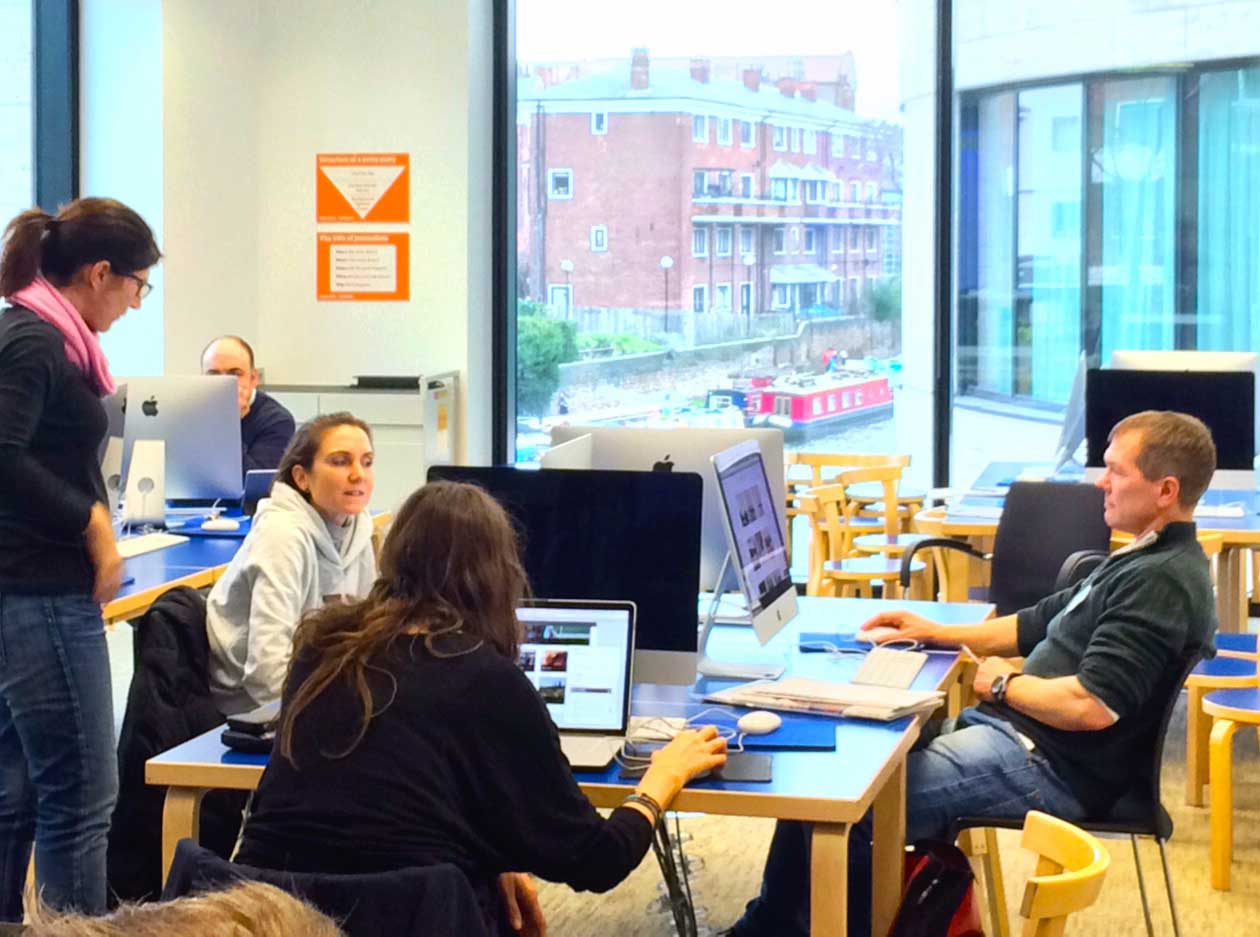 Allie Astell, Founder of Manage My Website, ran her first Squarespace workshop for Guardian Masterclasses a few weeks ago, and has written some thoughts about it for anyone considering joining the next course.
If you're thinking of joining one of my classes, you'll have a business idea in mind, an existing website that you'd like to redesign, or perhaps you'd like to blog about a hobby. Whatever your goal, building your own Squarespace website is definitely a great place to start.
Launched in 2004 from a dorm room, Squarespace now employs 503 people and can boast millions of websites published on its cloud-hosted platform.
The weekend Guardian Masterclass was a wonderful experience. I was teaching 12 people from all walks of life - among them were a plastic surgeon, film maker, furniture maker, yoga instructor, retired teacher who wants to blog about his mammoth walk on the Pilgrim's Path from Canterbury to Rome, a property developer, graphic designer and a charity worker.
Their stories were fascinating. When we chatted during the class and over lunch, I learnt a lot about their dreams and aspirations, and it helped me to support each person individually with template choices, styling and workarounds as the workshop progressed.
Starting at 10am and finishing at 4pm each day, we covered the basics of building your own Squarespace website. Sessions included:
• Starting a Squarespace trial
• Understanding Squarespace Tools
• Adding Content: Blog Pages
• Adding Content: Galleries
• Styling Your Site
• Increasing Your Site's Visibility to Search Engines (SEO)
• Launching Your Website
• Start Your Own Website
Everyone attending the workshop had at least an intermediate level of computer literacy, as it's not suitable for absolute beginners and practical sessions were carried out Macs in the Guardian's education centre.
Each student was sent a pre-course handout letting them know what to expect, and how to prepare for the weekend. They were then issued with a post-course handout detailing where they could find official and regularly updated instructions for each element of the workshop, plus they were told about the support available to them from both Squarespace and myself.
My next Guardian Masterclass will be for one day, and takes place on 23 April 2016 in London. The syllabus will be exactly the same it was on the two-day course, although more condensed.
At a cost of just £249 per person (which includes VAT, booking fee, lunch and refreshments) this is your perfect opportunity to take some time out and learn how to build your own Squarespace website in a very supportive environment.
For more details, or to book, click here.
If you can't make that date or have a more specific requirement, please contact Manage My Website to find out about further training opportunities.